5 Reasons to Invest in Ergonomic Lifting Equipment for Your Facility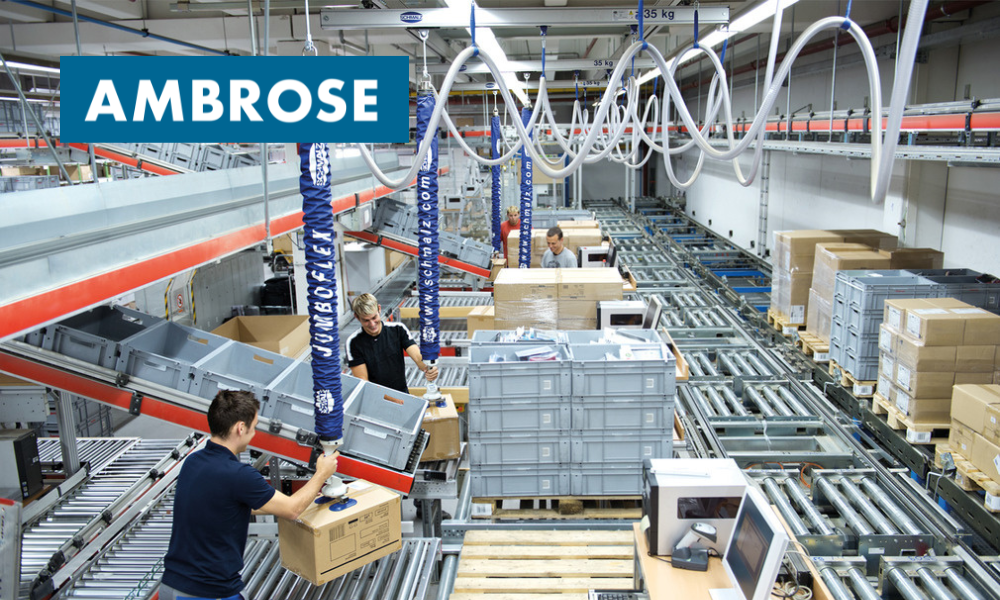 What Equipment can be used for Lifting?
There is a wide array of equipment used for lifting that includes hoists, lift assists, lift tables, conveyors, jib cranes, bridge cranes, tilters and robotic pallet stackers. Hoists are available in the form of hand chain, electric, pneumatic and magnetic. While chain hoists offer a manual solution, electric hoists are often the preferred choice because they are ergonomic, offer a fast-lifting speed, are available in high capacities and do not require compressed air. Lift tables come in a variety of configurations, including mobile, rotating and low profile. Lifting devices and material handling equipment designed for lifting boxes include forks, platforms and scissor lifts and clamps.
What Is a Mechanical Lifting System?
A mechanical lifting device lifts and relocates heavy parts and materials so that facility workers do not have to perform those job functions manually. Ergonomic lifters and assist devices are available to perform or help perform the following tasks:
Arrange, stack, load and unload pallets
Lift and rotate large and heavy parts
Place and retrieve parts and products into or out of elevated bins
Adjust the height of work surfaces
Balance tools and parts
How Do Lifting Devices Work?
Lifting devices work by combining a source of lifting power with a desired lifting action. The lifting equipment can be powered by electricity, compressed air or magnetics. The lifting action can be horizontal, vertical or rotational as well as any combination of those actions. For example, balancers are able to lift and balance a tool or object so that it can be precisely positioned without a worker having to support its weight. A lift assist can be used in picking operations to prevent a worker from having to continually stoop and bend.
What is the Newest Ergonomic Lifting Equipment on the Market?
The newest ergonomic lifting devices include vacuum lifters, intelligent lift assists and bag handlers. Vacuum lifters allow a single employee to lift and maneuver objects weighing as much as several hundred pounds. Using crane systems made of aluminum components, vacuum lifters are especially responsive and flexible to help employees lift a variety of objects as they go about their day. By automating the act of lifting and reducing the number of repeated movements for your staff, vacuum lifters are gaining in popularity due to their ability to conserve energy, increase task speed and promote overall wellness for those involved in assembly, production and logistics processes. Intelligent lift assists use robots or cobots that are able to automatically make adjustments and balance loads during the lifting operation. Ergonomic bag handlers are able to fill, lift, transfer, rotate and empty heavy bags of products like fertilizers and chemicals.
Reasons to Invest in Ergonomic Lifting Equipment in Your Facility
1. Ergonomic material handling equipment reduces costs related to accidents.
Through the use of ergonomic lifting devices, you can drastically reduce the number of on-the-job injuries, especially those classified as musculoskeletal disorders (MSDs). This will not only reduce direct costs associated with workers' compensation claims, but it will also eliminate many of the indirect costs, such as having to hire and train temporary workers or paying overtime to current employees who fill in for injured workers.
2. Ergonomic lifting solutions reduce production costs.
You can reduce your production costs by using automated material handling equipment to optimize your assembly line operations. You can automate many of the operations like picking, assembling, boxing, wrapping and palletizing. Lifting equipment like balancers will allow your employees to work more efficiently while reducing fatigue and risk.
3. Ergonomic lifting devices improve product quality.
By being able to easily lift and rotate objects into exact positions, your employees will produce better products. They will not be as physically and mentally exhausted as they would be if they had to perform those same operations by hand. Parts will fit together better, and tools are easier to use when their weight is supported by lifting devices.
4. Ergonomic lifters make your employees more productive.
Human beings tire easily when they are constantly lifting heavy objects or bending and stooping for parts. Ergonomic material handling equipment helps to keep employees fresh for longer periods of time. This allows them to remain focused on completing tasks with greater efficiency. Employees are also more likely to be engaged in a project, which will result in a reduction of sick days and other time off because they want to see their projects completed.
5. Ergonomic material handling equipment allows you to increase your facility's capacity.
By implementing lifting equipment, you will be able to save space and arrange operations so that tasks are accomplished more fluidly and strategically. You will also be able to take advantage of warehouse space that was previously unusable, such as high storage bins that are normally out of a worker's reach. Additionally, you will be able to reduce the physical space between operations.
Take the Next Step Today
Between prioritizing the safety of employees and streamlining efficiencies, the benefits of ergonomic lifting equipment are clear and vast. If you and your team are ready to explore options for your facility, reach out to the Ambrose team today. Our consultative approach entails getting to know every detail of your operations so that we are able to confidently recommend the best cost effective solutions for you. And – when you purchase equipment with us – no assembly is ever required as we coordinate directly with our manufacturer partners to ensure each piece is picked and assembled perfectly on your behalf. Find out more about our dedicated process today.