5 Ways Modular Units Can Benefit Your Warehouse
If you are looking for the best way to quickly add office workspace or controlled environments to your warehouse, you should consider modular units. Modular units have many advantages over other methods used to construct inplant offices and clean rooms. Modular buildings are much quicker to construct with numerous office configurations and floor plans from which to choose. Additionally, modular units are energy efficient, as well as eco-friendly.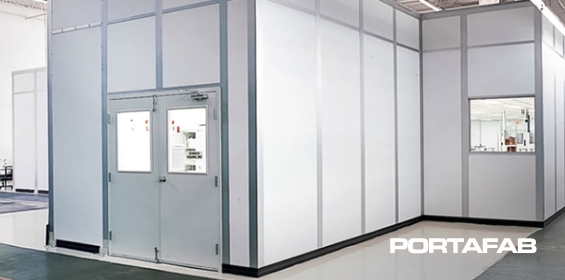 What Are Modular Units?
Modular units, also known as prefab or pre-engineered offices, are freestanding spaces that have been constructed off site and then assembled on site, usually in warehouses in order to segment offices from the warehouse floor itself. The components of a modular structure are fabricated in a controlled environment that promotes safety and provides an atmosphere well suited to achieving high-quality construction. Many floor plans are available, and custom offices and rooms can be built with any amount of square feet in mind.
What Options do Modular Units Offer?
Modular units offer a variety of options for your facility's unique needs. Modular offices and inplant buildings provide an exceptionally high degree of flexibility when it comes to sizing, configurations, design details and more. From standard warehouse office spaces and inplant offices to machine enclosures and inspection rooms, the application possibilities are endless.
Modular units can also serve as clean rooms and controlled environments that can help you minimize contamination when needed. Whether you are looking to protect sensitive materials, contain dust and/or particles or set up a specific environment for biotechnology, clean rooms can be constructed and delivered quickly to get you up and running faster than ever.
Booths, shelters, mezzanines and more are also available as modular units. Simple wall partitions can also be leveraged to divide space accordingly within your warehouse or facility. While the specific use cases of modular buildings are vast, these opportunities offer a unique advantage to find the right solution for your specific needs while being able to rely on the speed, cost efficiencies, and versatile nature that modular units provide.
How Can a Modular Unit Benefit Your Warehouse?
1. Experience cost savings.
Several factors contribute to the cost effectiveness of modular units. First, the cost of labor is low since the majority of construction occurs in a tightly controlled factory setting. Secondly, fewer people are required to erect the building once it arrives on site. Another factor that makes modular units cost effective is that they are very energy efficient while also greatly reducing design time – and even your taxes!
2. Leverage space to the best of your ability.
If you need additional square feet on either a temporary or long-term basis, modular units can provide it seamlessly. When you are through with any in-plant offices, the modular construction is relatively easy to disassemble and store or move to another location. On the other hand, modular units can be altered and expanded to meet the needs of a growing business easily and efficiently.
3. Implement tailored solutions.
Finding options that fit the specific needs of your facility's space can be daunting. When it comes to modular units, you are able to take advantage of versatile and flexible solutions that can adapt to be your perfect fit. With endless configurations to choose from, your team is able to pick and choose what exactly is needed – down to every fixture and door handle.
4. Save time and resources.
Companies that manufacture modular units, like our partners at Portafab, have standard configurations and floor plans that can be produced in short order. This is an excellent time-saving measure because it eliminates the time that is typically required by architects and engineers to conceptualize a new building. Modular units are also quicker to build because site preparations can be going on at the same time that modules are being constructed in the facility.
5. Take advantage of many efficiencies.
The majority of modular construction is conducted off site. This means that there is much less disruption to your business while the units are being constructed and can also help you achieve your accessibility goals. Construction time is quicker, and materials are not constantly being delivered to your location. This approach can also keep your facility clean by reducing dust and contamination that come along with on-site installation.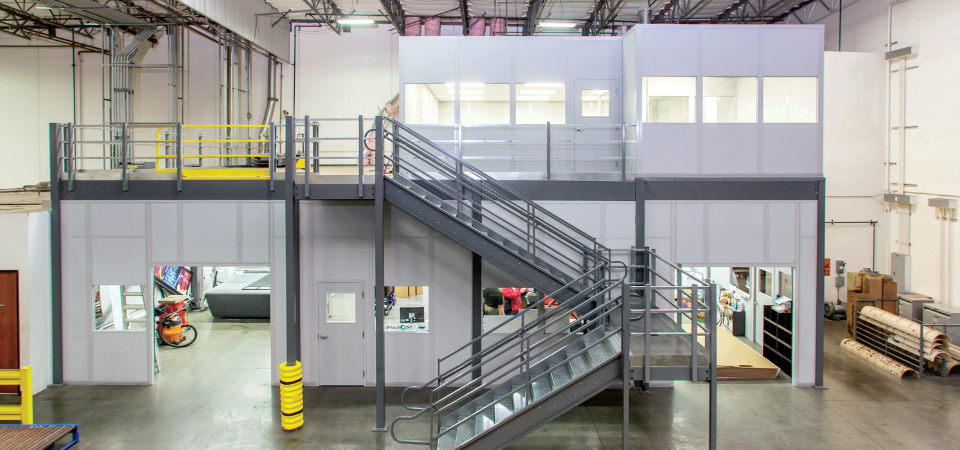 Discover if Modular Offices are Right For Your Warehouse
Looking to reassess your warehouse space to optimize square footage, be intentional about office integration and more? The Ambrose team is ready to get a conversation started today. Our experience integrating building solutions like modular units and clean rooms into warehouses across the country is vast and varied. This historical expertise backed by nearly 50 years of experience is ready to serve your needs and find the best solutions for your warehousing goals so that you and your team can optimize efficiencies and stay focused on moving, storing and shipping your inventory now and into the future.