How Ambrose Approaches Project Management Differently
In the dynamic world of automation and manufacturing project management where organizations strive to deliver successful outcomes within specified constraints, choosing the right approach — and partner — is critical. The selection of a project management approach sets the foundation for how projects are planned, executed and controlled.
With various methodologies and frameworks available, understanding the different approaches to the manufacturing process and their suitability for specific projects becomes essential. This blog dives into Ambrose's various project management methodologies, as well as their practical applications to removing bottlenecks and resource planning accordingly.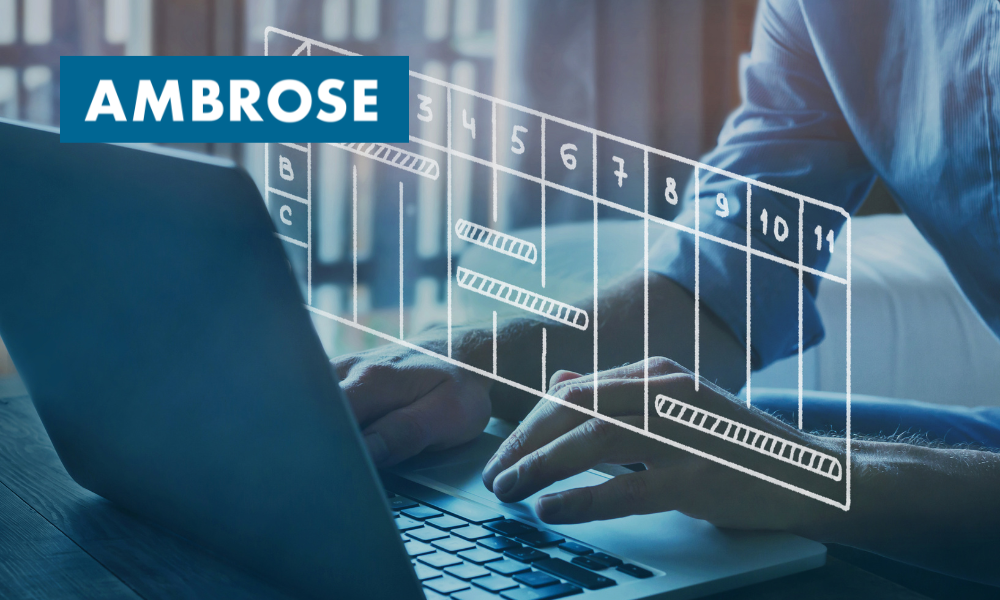 Our Project Management Approaches
Project management approaches refer to the different methodologies, frameworks and philosophies that guide the execution of projects from start to finish. These approaches provide a structured and systematic way to manage projects and build out timelines, ensuring they are completed efficiently, within budget and according to the desired quality standards.
Project management tools and approaches influence how managers direct an entire project. While some approaches are flexible, others rely on strict deadlines to drive progress forward. At Ambrose, we don't shy away from switching up how we tackle our latest challenge. The following are the different approaches we leverage in the project management process, production scheduling and more.
Waterfall
The waterfall or traditional approach is a project management methodology that follows a linear and sequential progression through distinct phases. It is called "waterfall" because the flow of activities cascades downwards, with each phase dependent on the completion of the previous one. We use this approach for projects with well-defined requirements and stable environments that allow us to wait to start another step in the project until we've completed the previous one so that we can approach the rollout slowly, steadily and in a structured manner.
Agile
The agile methodology is an iterative and incremental approach to project management that emphasizes flexibility, collaboration and continuous improvement. It is designed to handle projects that are complex, uncertain or subject to changing requirements. Agile methodologies prioritize delivering value to customers early and frequently, promoting adaptive planning and offering close collaboration between the project team and stakeholders.
We implement agile mythologies through frameworks such as Scrum, Kanban and Gantt Charts. Scrum is one of the most popular agile frameworks we leverage, which features short, time-boxed sprints, a prioritized backlog and daily stand-up meetings. Kanban and Gantt charts focus on visualizing and optimizing steps and overall workflow.
Lean
Lean manufacturing is a project management approach derived from lean principles built out within the manufacturing industry that were initially developed by Toyota. Lean project management aims to maximize value while minimizing waste, focusing on continuous improvement, efficiency and customer satisfaction. It is widely applied across various industries to streamline processes, eliminate non-value-added activities and optimize resource utilization. The lean methodology can be implemented alongside other project management frameworks, such as agile or waterfall project management, to enhance their effectiveness.
Ambrose's Pillars of Manufacturing Project Management
Our three pillars of Ambrose manufacturing project management include experience, communication and attention to detail. Our in-house experts include talented and experienced project managers and team members dedicated to turning our clients' projects into winning initiatives.
We offer real-time, regularly updated project schedules and have weekly progress meetings with our clients, so they never have to wonder how far along we are in the production process. Our project team values transparency and risk management throughout the entire process and provides regular communication by phone and email, keeping our clients in the loop at all times.
Finally, we never leave anything to chance. We plan for success by scheduling milestones and mapping deliverables down to the hour, day and week. We are also sure to hold ourselves accountable to our stakeholders. Our clients' engagement and manufacturing business success is of the utmost importance to us, so we're sure to never leave any room for missteps.
Your Next Step
Successful project management provides the structure, tools and techniques to navigate complex initiatives and deliver desired outcomes. It empowers organizations to effectively allocate resources, assess pricing, manage risks, prioritize quality control and optimize project performance, ultimately contributing to overall business success and production line optimization.
Whether you're just starting to develop project plans or simply looking for potential automation solutions for your manufacturing company, our talented integration project management team will help you streamline the process to ensure success for whatever it is that your end goal may be. Contact us today to get started and learn more about our project portfolio.