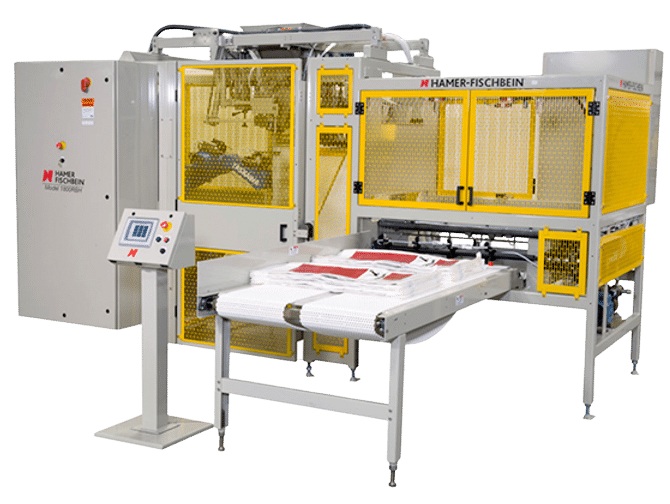 Bagging, Weighing and Filling Systems:
---
From bulk solids process, storage and conveyance, to filling, scaling, and weighing, Ambrose has you covered with our portable bagging machines. Weight ranges from a fraction of 1 lb to 4,000 lbs. We integrate a full line of filling and weighing equipment for packets, standup pouches, bags, cans, jugs, boxes, gaylord boxes, drums, and bulk bags/super sacks. 
Gross weigh and net weigh automatic bagger and sealer systems include linear scales and combination weighers for high speed applications. Ambrose has decades of combined experience with designing, implementing, and servicing standalone manual filling equipment to fully automated bagging/filling lines. Whether you need a single piece of equipment or full line of automated bagging systems, Ambrose has this in the bag!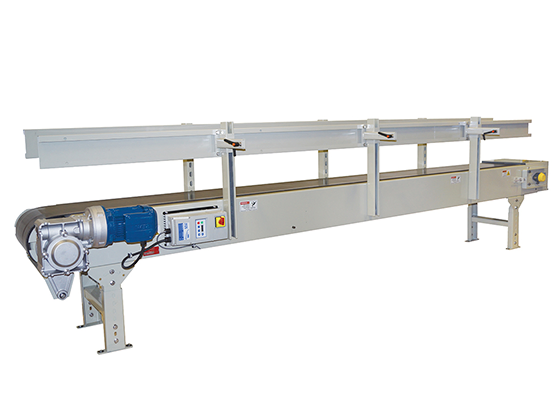 Bulk Solids Conveyors:
---
Look to Ambrose to design your bulk solids conveyance with a wide range of automatic bagging systems, including dense phase and dilute phase pneumatic conveyors, vacuum conveyors augers and screw conveyors, cable puck conveyors, drag conveyors, belt conveyors, vibratory feeder and vibratory conveyors, bucket elevators. We can test to determine incline compatibility and conveyance rates. Products range from fine powders to large chunks, free flowing to poor flow characteristics and even sticky products. Let Ambrose size your next conveyance project and remember us for storage tanks, hoppers and bins.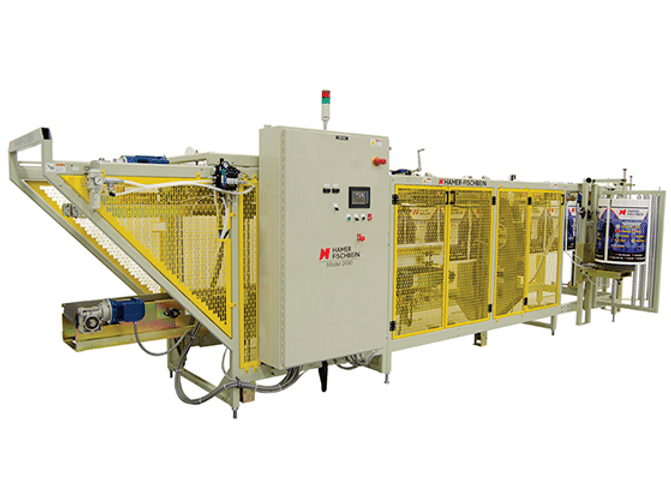 Form Fill and Seal Automation
Form Fill and Seal (also known as FFS automation) is a type of automatic bagging system ideally suited for running long production runs at high speeds. This type of system uses a roll of inexpensive flat plastic to form bags that are then filled and sealed. 
Form fill and seal systems are available in two types (horizontal-HFFS and vertical-VFFS). This is relative to the direction of film travel. Form Fill and Seal systems are very reliable, flexible with many bag configurations, and have excellent uptimes and low annual maintenance costs. Vertical FFS systems are most common for smaller packages, snack foods, pet foods, but are offered for larger bag formats such as fertilizer. Vertical FFS systems often include a combination weigh scale that includes 10 to 20 net weigh dump scales for best speed. Horizontal FFS are most commonly used for lawn and garden products such as mulch & soils, kitty litter, ice melt, water softener pellets, and typically has a net weigh linear duplex bagging scale above it.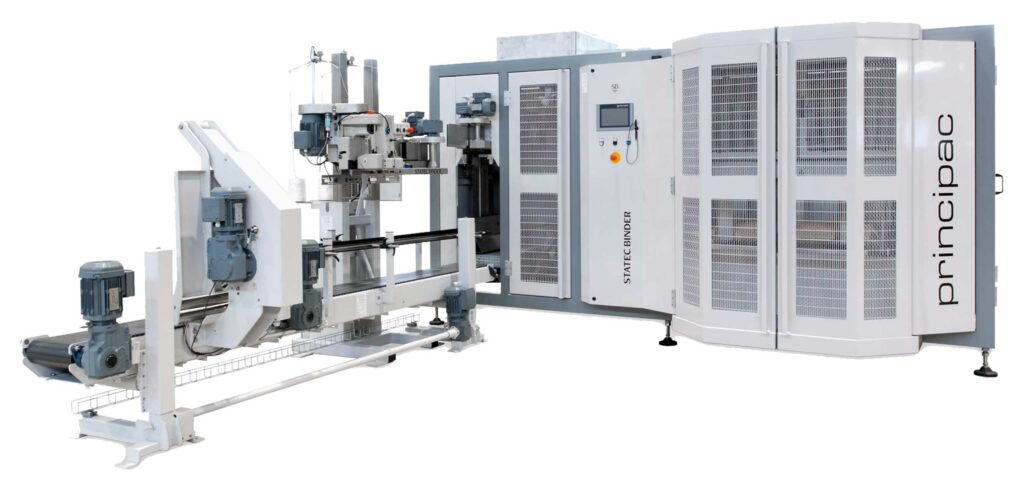 Open Mouth Automation
---
Open mouth automation can be applied to bagging, drums, pails, tubs and boxes.
Our automatic open mouth bagging machines use pre-made bags placed into a bag magazine conveyor. Bags are presented one at a time to a bag clamp, filled, then presented to a bag closer such as sewing or sealing. Once the bag is closed, it can be palletized manually, or automatically conveyed to a robotic or conventional palletizer before being stretch-wrapped. This type of automation must include a net weigh bagging scale above the automatic bagger.
When automation is applied to drums, pails, tubs or boxes, the container is typically conveyed and indexed to a position under a fill spout with a dust hood. Product is dispensed into the container (net or gross weigh), then indexed forward for lidding. This type of automation can include a conveyor on load cells (gross weigh) or a net weigh scale above the container that weighs and drops the product into the container. These types of systems then convey the filled containers to an automatic palletizer and stretch wrapper.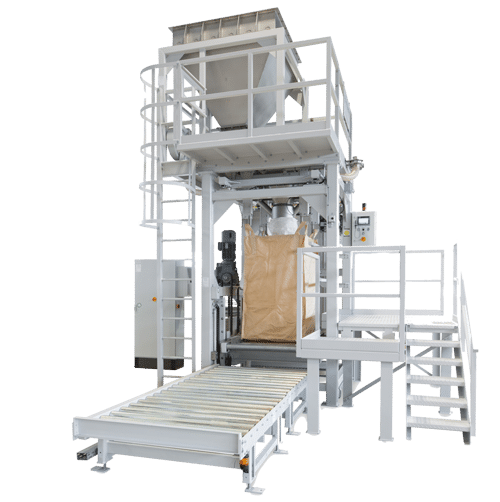 Bulk Bag, Tote and Drum Filling Machines
---
Bulk bags (also known as super sacks or sling bags) are often filled on a manual to semi-automatic system. The bags are made of woven poly with 10" loops in the top corners of the bag. They are sized to fit on a typical sized pallet and come in a typical range of heights from 24" to 72" and range in weight from 1,000 to 4,000 pounds. Bags come with an inlet neck and discharge neck for unloading when delivered to the end user that puts the bag on a bulk bag emptying machine. Products range from fine powders to coarse flowable products. The scale systems are generally gross weigh platform load cells with frames to hang the bag straps. The inlet neck is opened and put onto an inflatable spout to seal off the inlet during filling for best dust control. Adding pass through conveyors, lift platform, auto bag strap release and neck seal deflate allows for a higher degree of automation.
Totes (also known as gaylord boxes) and drums are often filled on a similar platform scale as bulk bags, but often include hoods that cover the open top of the box or drum to control dust. These can be automated with conveyance in the same way bulk bag filling systems.
Manual Bagger Systems
---
If you are operating on a limited budget, have low production rates, or do not have height or space for an automatic bagger, you may find manual bagging systems to be the best approach. If you have enough height below the supply hopper, you can choose a net weigh bagging scale that could be upgraded to a semi or fully automatic bagging system in the future. Gross weigh bagging scales do not require as much height, are less expensive and slower than net weigh bagging scales and cannot be automated in the future. Manual bagging lines include the bagging scale, a bag closing conveyor and a bag closer. Filled and closed bags can be palletized manually or conveyed to an automatic palletizer and stretch wrapper. If palletizing manually, you can add a pallet lift table for ergonomic manual stacking.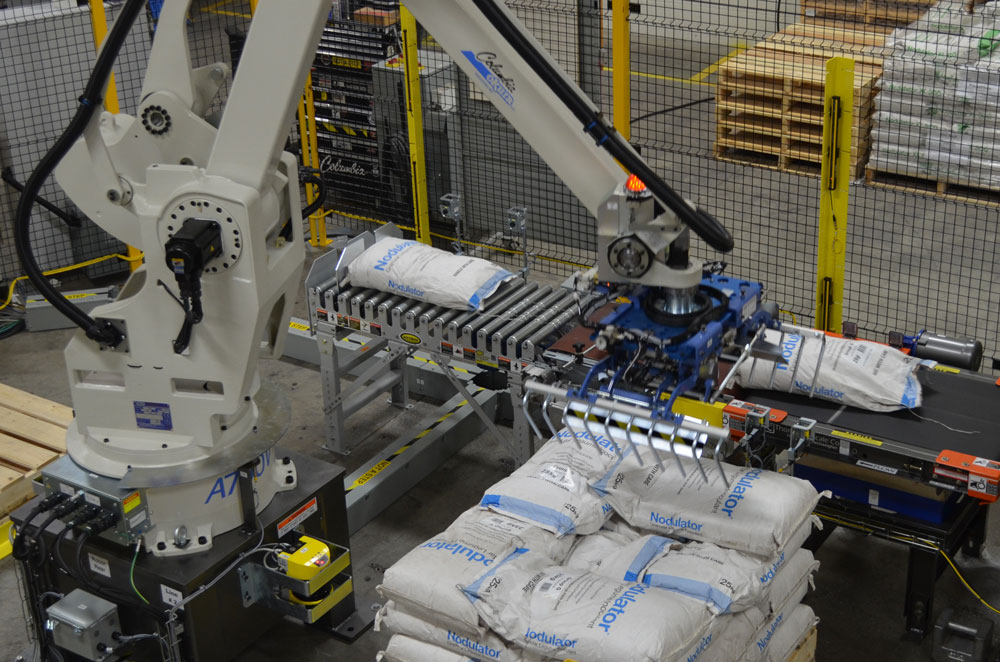 Automatic Palletizers
---
Automatic palletizers are available in robotic, robotic-hybrid, and hi-level conventional and XYZ gantry systems. 
Robotic palletizers are the most cost effective, most versatile in layout options, lowest cost to maintain and are the most widely used for all of the above reasons. Common applications include bags, pails and boxes. Bag palletizing rates range from 3 to 20+ bags per minute. Case (aka box) palletizing rates range from 3 to 30 cases per minute depending on case dimensions and stack pattern.
Robotic hybrid systems are simply robotic placement with compression for bags. 
High level conventional palletizers use product orientation conveyors and mechanisms to build a layer, then set the layer of product on the pallet. This allows for much higher rates. Bagging rates range from 15-40 BPM and produce a more squared stack than what a robotic drop placement can achieve. Case palletizing rates range from 25 to 120 per minute and are commonly used in the bottling industry.
XYZ Gantry palletizers are a low speed, low cost, small footprint commonly used in the potato industry.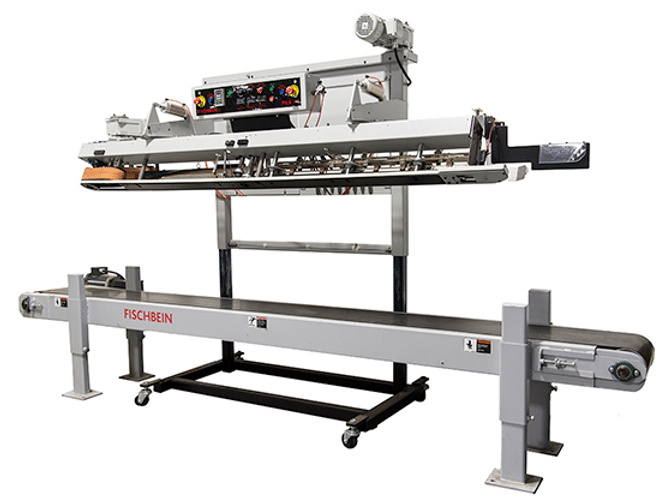 Bag Heat Sealing
---
Heat sealing bags made of polyethylene, nylon, polyester or some composite of poly, and or aluminum with polyethylene laminate can be accomplished with a rotary band of hot air with compression. Bags are either gusseted or non-gusseted (aka pillow styled bags). Heat sealing poly material through a continuous sealer with carry through belts requires either an operator to present the bag to the infeed belts or an automated bagger can present the bag to the heat sealer. Sealing poly materials is a function of heat/temperature, dwell time, and compression. Different materials seal at different rates. Automated sealers are ideally suited for bags containing food products, pet foods, livestock feed, fertilizers, and pesticides. Often the bag material has micro-perforations to allow the trapped air to escape so palletized bags are stable. Sometimes perforations are not desirable and the bag must maintain a seal. Different materials allow air to transfer and may not hold a vacuum or maintain applied gasses such as a nitrogen purge. There are many applications and we have seen them all.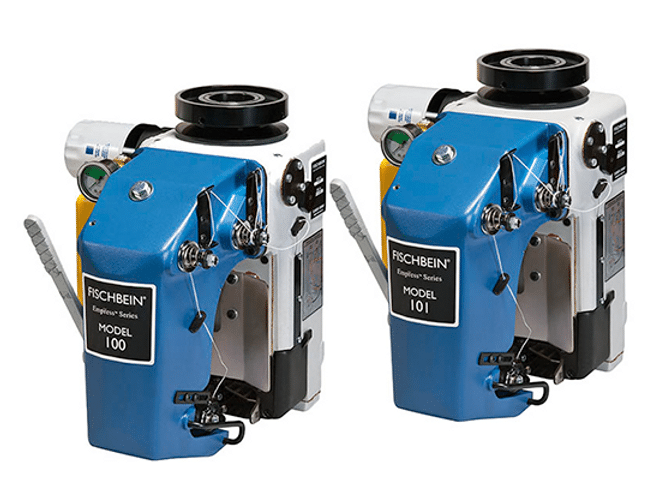 Sewing
---
A large variety of bag sewing equipment is available, including portable machines, semi-automated machines with plain heads and fully automated equipment that aligns the bags and sews them. Sewing equipment can include a single thread stitch (often used as an easy open feature, double thread (standard), and crepe tape where sew through tape is applied during the sewing process. In all cases, the equipment is easy and safe to use, providing reliability and increased productivity. This equipment can fit in low to high speed applications with conveyor speeds ranging from 35 to 75 fpm. Bags can be efficiently sewn from a variety of materials, including laminated woven polypropylene, multi-wall paper (aka craft bag), and jute (aka burlap).
Tagging
---
Automatic tagging systems are available that will seamlessly attach a tag to a bag as it is being sewn closed so that the tag is sewn into place. Tags can be printed and cut automatically and attached to either side of the bag. Word processing software, such as Microsoft Word or Adobe PDF, is used to design the tags. Tags can be printed in a variety of shapes and sizes from blank stock. Most systems also provide a way to communicate with remote office equipment that can be used for tag design.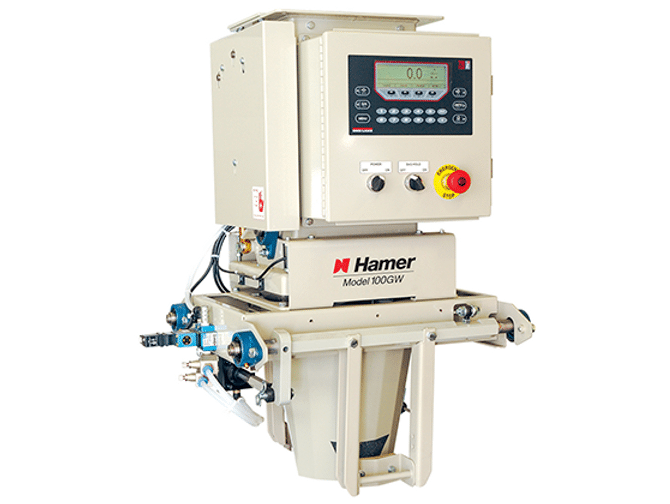 Weighing & Filling
---
Weighing and filling includes container filling with gross or net weigh scales, combination scales and is complemented by check weigh scales, metal detection, X-ray equipment downstream of the weighing and filling scales. Weighing and filling systems include product flow through gravity feed, vibratory feed, auger/screw feeders and belt feeders depending on product flow characteristics. Scaling systems can be applied to manual or fully automatic bagging systems.
How to buy:
---
It's our goal that you're completely satisfied with the purchase of your equipment. Therefore, we will work together to determine the optimal options, supplies, installation methods, and training that best serves your application, budget and quality standards.
Speak to a Representative – Call (913) 780-5666 or email AmbroseCRT@ambroseco.com
HAVE QUESTIONS?
We have solutions
---