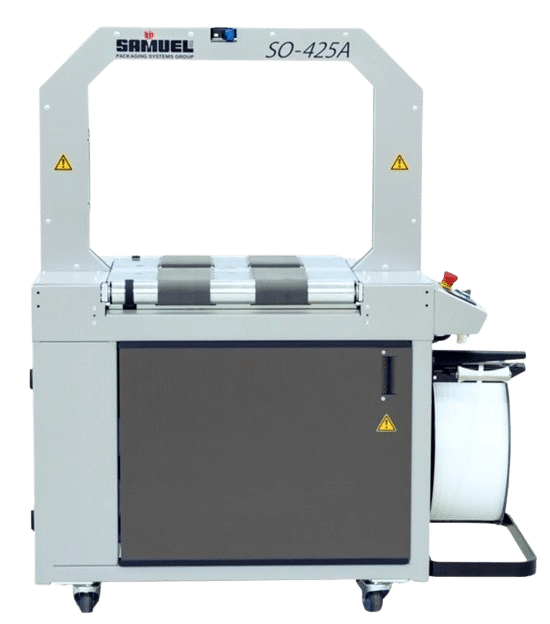 Automatic Strapping Solutions
---
Whether you are seeking an alternative solution to tape, glue or staples, or want to secure individual packages from opening, securing a load on a pallet, or strapping bundles of product together, an automatic strapping machine is an ideal addition to the end of your production line or packaging area.
Strapping systems can utilize both plastic and steel banding/strapping material. Strapping material selection will be dictated by the specific application of use.  Where the alternative is hand strapping tools, a semi-automatic machine is often appropriate for smaller volume operations which are seeking a more efficient way to secure product or loads. Fully-Automatic strapping systems are well suited for high volume and high output production operations, as they can detect loads, strap, tighten, seal, and cut without human intervention.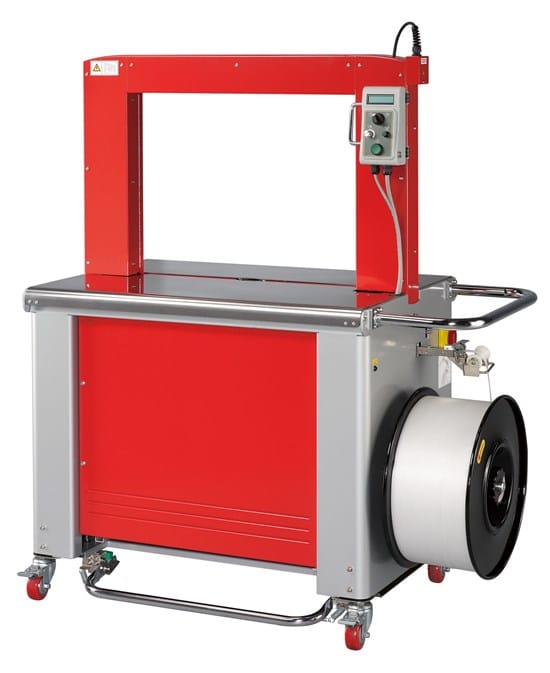 When you are shipping heavy items, securing mixed-loads, longer linear products which can't be wrapped, or transporting products over long distances, you may find that securing with stretch film, tape, or glue is inadequate to protect your products. You may also need to increase the security of your loaded pallets. If any of those cases applies to you, you should look into the benefits of using plastic and steel strapping.
How Does Automatic Strapping Equipment Work?
---
Package strapping equipment works by placing plastic or steel straps around a box, linear products, mixed loads, crates, or pallets. The straps are then pulled up to tension, sealed, and cut. This can be done manually or by semi-automatic or automatic strapping equipment.
Different Strapping Methods and Devices
---
There are a few common strapping methods and devices, including manual, semi-automatic, and automatic. Here is a brief description of those different strapping methods:
Battery-operated hand strapping tools — apply tension to the strap, seal it and cut the ends. These tools are very portable, flexible and easy to use. They can be used in any location regardless of whether electricity is available.

Semi-automatic strapping machines — once an operator places the case or product within the confines of the strap chute. The operator triggers the system to start, a strap encircles cases or products with strapping material, which pulls the strap up to tension, seals and cuts the strap. Semi-automatic strapping equipment can be used for a nearly endless range of applications, from standard product cases, steel tubing, bricks, tiered layers of bottles and more. 

Automatic strapping machines — similar to operating methods of a semi-automatic system, automatic strapping machines complete the same functional tasks, but without operator intervention. Typically, the product is introduced by an operator or production line downstream via a conveyor. Once the product is strapped, in some instances, programmed for a series of strategically placed straps, the system expels the load to an exit conveyor or accumulation zone.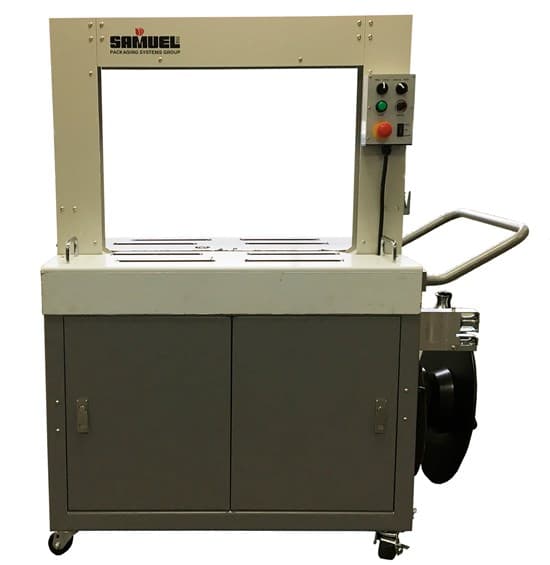 What Are the Benefits of Automatic Strapping Solutions?
---
There are many benefits of strapping equipment, including the following:
Provides additional security to heavy objects and products to be shipped over long distances

Increases the rate of securing boxes, crates, and pallets for shipping as much as two to four times what could be accomplished by hand or other load securing methods.

Capable of strapping unique load sizes and weights 

Reduces waste by measuring the precise strap payout and tension of strap for use

Reduces workplace injuries
Strapping System Solutions from Ambrose
---
Strapping can speed up your end-of-line operations, boost your productivity and increase your bottom line. Leveraging strapping equipment allows you to redirect employees' efforts to other facility demands. To find out more, contact one of our product specialists today. We will be happy to help you find the right strapping system for your application.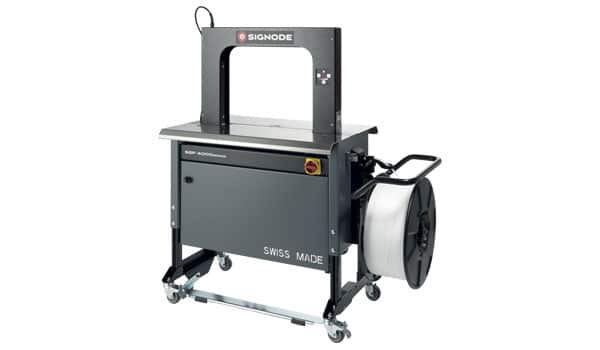 How to buy:
---
It's our goal that you're completely satisfied with the purchase of your equipment. Therefore, we will work together to determine the optimal options, supplies, installation methods, and training that best serves your application, budget and quality standards.
Speak to a Representative – Call (913) 780-5666 or email AmbroseCRT@ambroseco.com Fill out a quote request online
READY TO GET STARTED?
We're Ready to Help
---